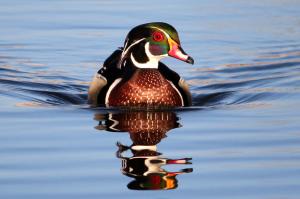 4/10/2014 Brook Burling, of Wisconsin Rapids, was named the Northwoods Wildlife Center's Artist of the Year after her photograph, "Cruising," won first place in the North American Wildlife category of the center's recently-held photography contest.

Burling, a self-taught photographer who got hooked on the hobby about 10-12 years ago, said she took some time to get the winning shot but that it wasn't done with any contest in mind.

"We have a small pond on our property here in Wisconsin Rapids and the wood ducks were starting to come in so we set up a duck blind on the edge of the pond," she said.

"It was a cool morning – probably in the 30s and sunny – when I got the shot. I remember my fingers were getting pretty cold at the time."

However, the short-term chilly fingers were well worth the effort, she said.

"I heard about the [NWC] contest from a gal in Woodruff and then I looked it up online and decided to enter. It's a great organization...